Ah what's the time? A question that I never need to ask, because, well, I love watches… Like many women! If you're here as a blogger, you'll understand that watches have become fashion pieces in their own right more recently and that it actually plays a big part in your outfit. Your watch should match, and be a statement piece. So, whilst I was browsing the Watches of Switzerland website recently, I thought I'd pick out some of my favourite pieces – both brown and black, for all types of outfits, obviously!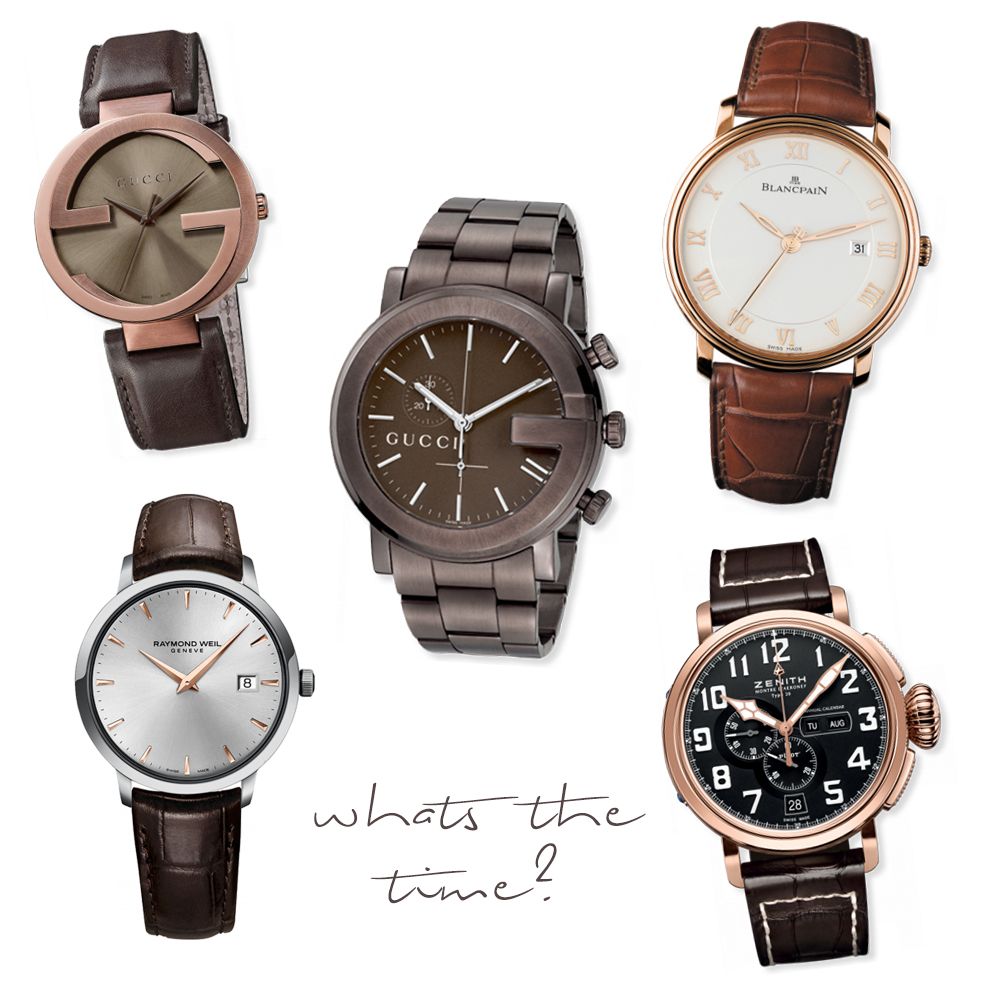 I have been loving brown tones recently, so these watches instantly popped out at me. Firstly we have my favourite, the Rose Gold Gucci. I just love how the rose gold details work with the deep brown strap and face, it's perfection. Also, with both Gucci watches you'll notice the subtle 'G' that makes the face, I just love how on brand this is, but how it is still pretty subtle. It's a statement all on it's own, which of course, I love. Below we have a lovely mix of brown, silver and rose gold – which actually works perfectly, well done Raymond Weil. This watch is for those who prefer to have just the one timepiece, so it will go with most outfits and jewellery choices. It's simplistic style is my favourite aspect of this piece, it is classic and timeless (oh the irony!) and is definitely bang on trend, with rose gold being so sought after currently!
Next up is a more vintage inspired watch by Blancpain, I'd say one day this would be an antique piece, with an alligator strap, gold details and fancy minute hands (which I really like!) it has a certain smart, sophisticated look about it, which is beautiful. Lastly we have something a little different by Zenith, which is why this caught my eye. With a rich brown strap, strong rose gold details and a dark black face – this watch has a little bit of everything. I firstly love how the brown strap works with the rose gold casing –  creating a rich, strong feel. Then we have the dark black face, which definitely makes the numbers and hands pop. I love how there's an obvious date and fancy dials on the face's background too, it creates a really interesting and modern effect. This watch is both vintage, and modern perfection.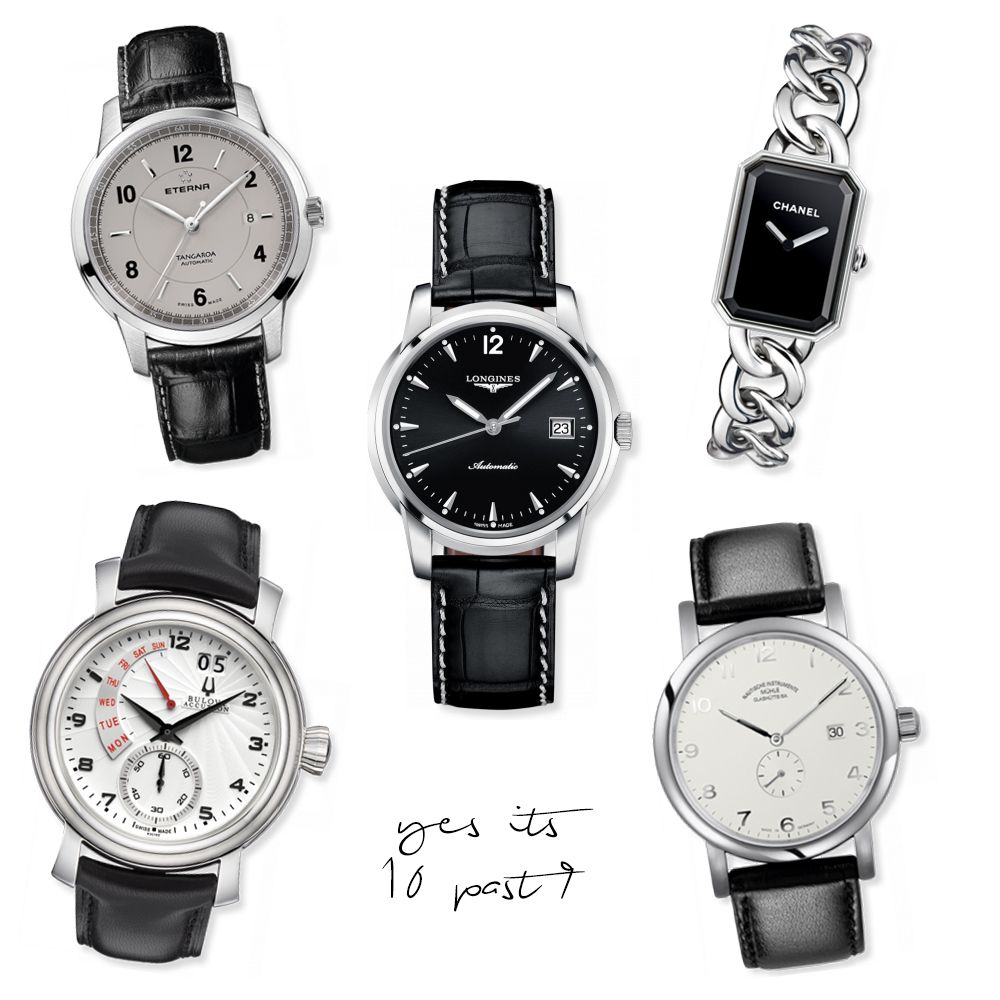 Now, of course, black watches are also a staple… especially for me – yes you're right, my wardrobe is full of mostly black. I just enjoy how a black watch can make an outfit pop, all black clothes, leather jacket and a nice watch is literally my go-to outfit. Like the brown, the above black delights caught my eye whilst browsing Watches of Switzerland website, so here they are!
Starting with the first from Eterna, I'd say this was my favourite. A black strap, silver casing and the most delightful grey face. Now, I am a big fan of grey so this is the perfect watch for someone like me! I love the monochrome feel it has, and there's really nothing wrong with a bit of greyscale. Like most, it has a very retro, yet modern vibe – which is perfect for any outfit, for all occasions. Then we have the Longines, which again has a really lovely black face – making those minute hands and dashes pop. This watch is kept simple, classic and timeless, which works wonderfully well.
Then we have the mother of all watches, by Chanel. Going out for a dinner date? Little Black Dress? Well, I'd say this was the watch for you. It's perfectly simple black face, with hands and a classic Chanel logo works wonders at keeping this watch sophisticated, and feminine. We then also have the chain strap detail, which pushes this watch into the 'bracelet' category, perfect if you like your watch to act as a piece of jewellery also. For me, this is the most classic and useful Chanel piece you would own, I just love it.
And lastly we have both the Bulova Accutron and the Mühle Glashütte. The Bulova has a certain look that as a trained graphic designer, I am just drawn to. A number of designed effects and a dial that is both practical, and looks very nice. I also like the date dial – a handy list of the weekdays with a simple arrow pointing to which day it is – may you always know when it is the weekend! Sounds good to me. Then we also have the Mühle Glashütte, a similar style but maybe more feminine, with it's clean lines and silver detailing. I love the simplicity and sophisticated style of this watch – it has everything you need, without feeling cluttered or confusing. Watch design at it's finest.
So there you go guys, my all time favourite watches. I just love classic pieces that I know will never date, I can also safely say that a watch completes my outfits these days – I feel lost when I forget to pop one on! Which one above is your favourite?