Oh, hello Wimbledon! Now, I'm not one to particularly follow any sports, but I do like to be involved.. this usually involves the fashion side of things. Yep, the typical fashion lover that I am, I just love to see what the guests, the players, and anyone else is wearing. The players inspire me the most and I loved this post on the Vogue website about tennis fashion – it's so obvious where pleats, stripes and those glorious white trainers have stemmed from. Reading through this today, I decided to do a little post inspired by Tennis fashion. If you love Tennis (and less of the fashion..) head on over to this website, where you can keep up to dates with scores and bet all you like!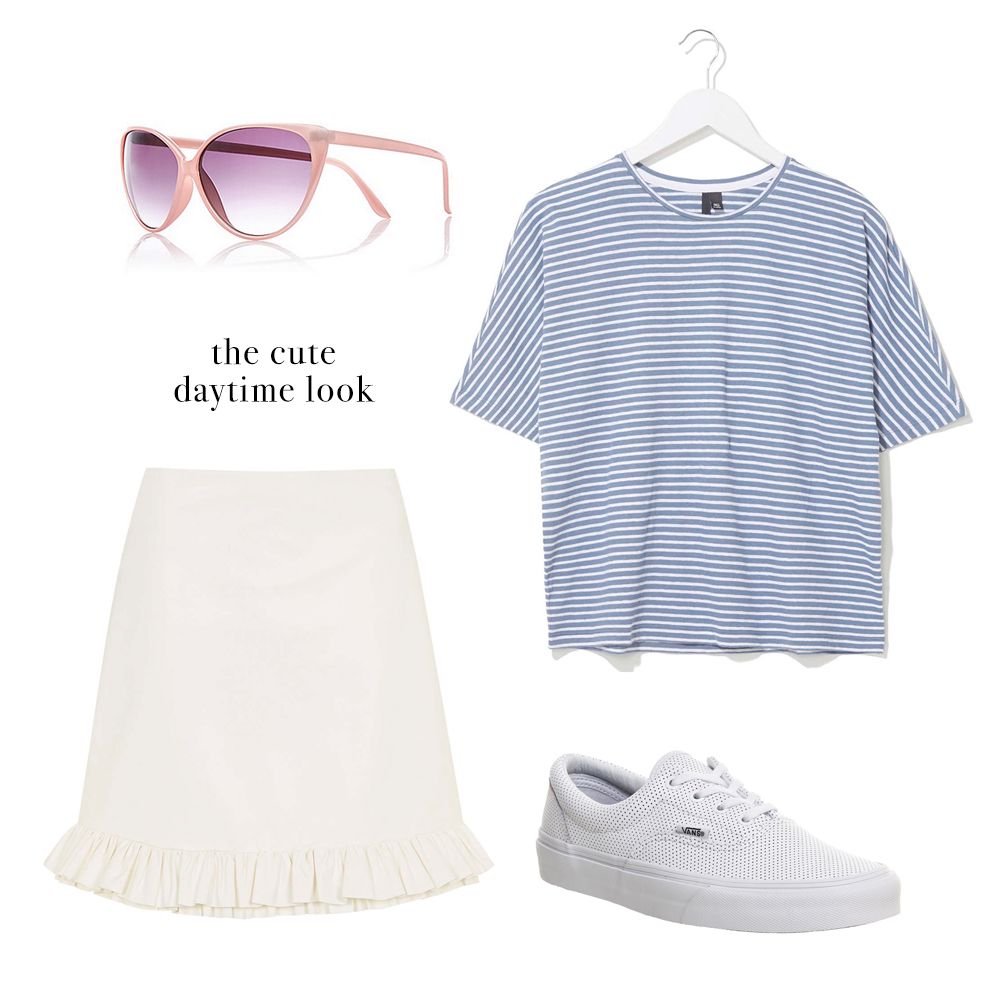 So, first things first – the cute daytime look. I absolutely love this Topshop Skirt, the perfect mix of cool and girly (the little frill along the bottom also means you could dress it up!) I paired this with a cool, baggy tshirt because I just love how these two styles work together.. a tighter fitting skirt paired with a baggy tee is a match made in heaven. Lastly, a few little additions.. these super girly sunnies; these should definitely be owned by inthefrow (hello matching hair!) and the perfect white trainers. I love that us girls can now officially say skirts worn with trainers is in fashion – never did I think I'd see the day a comfortable pair of shoes were better than heels!
Outfit #1 details: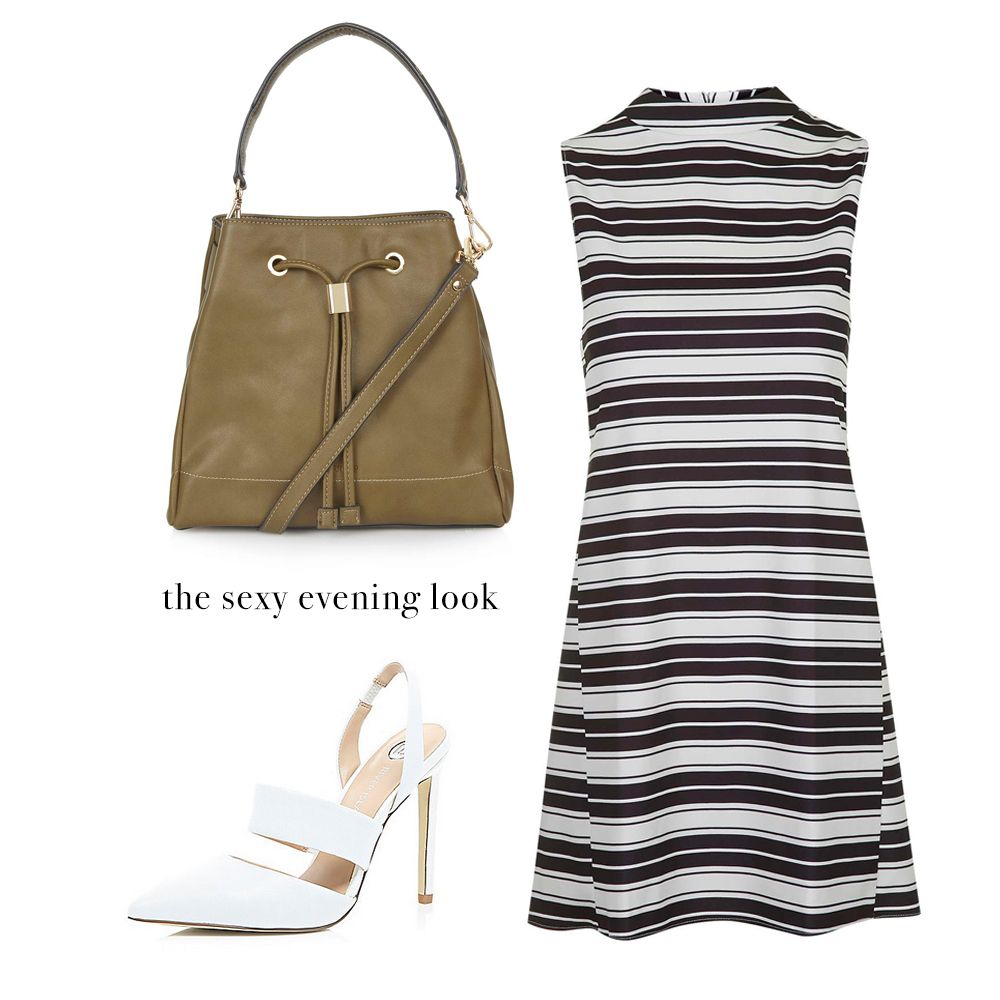 Next up we have the smouldering evening look. A beautifully classic striped dress which has the most flattering shape – pop your hair up nice and high to make use of that beautiful neckline. I kept this one simple with a green bag (obviously we don't fancy neon green to match the tennis balls..) and some super classic heels. I also love the heels paired with this dress, it keeps the striped theme going and just adds a touch of fun. Good luck walking in those after getting used to the trainers, though!
Outfit 2 details: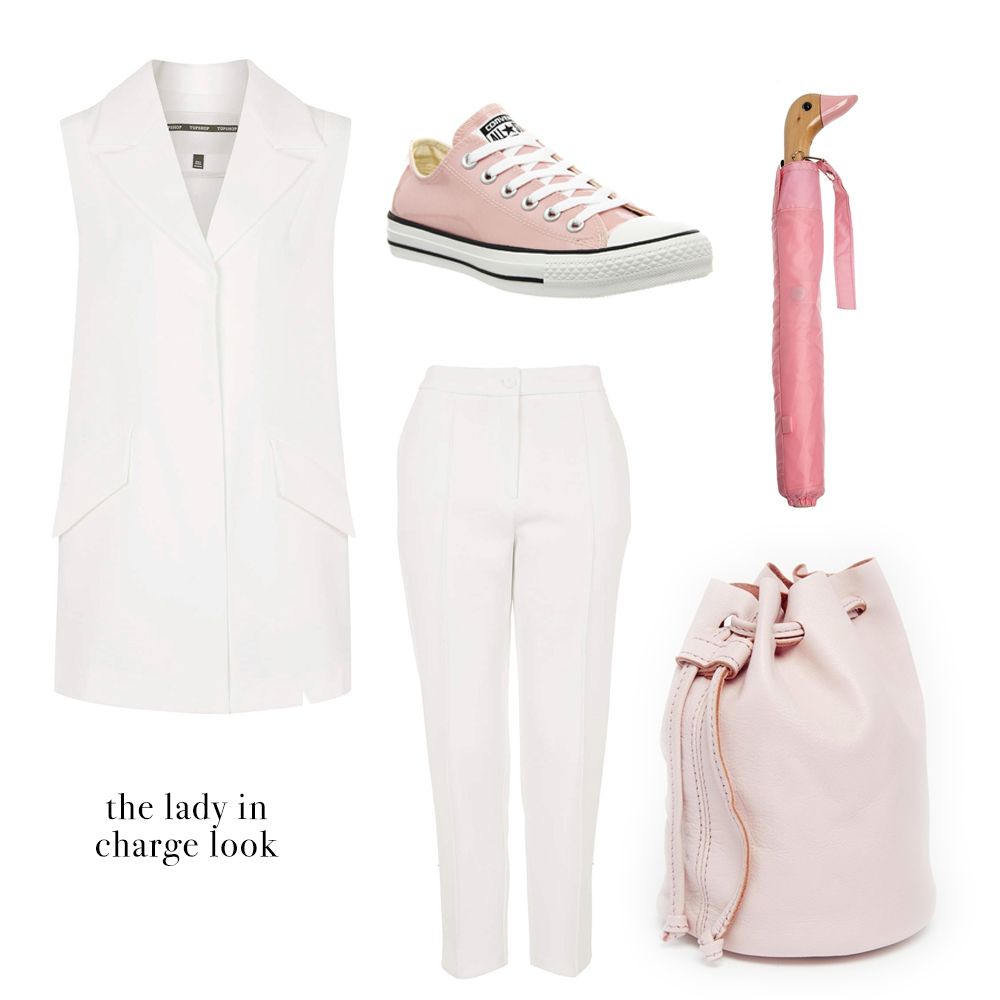 And the best 'til last? The lady in charge… a white suit (or co-ord..) which just instantly means business, but also shoes you're super cool. If like me suits arent usually your thing, this is the perect place to start. It's still a little smart, and a little casual – you could pop on a cute graphic tshirt under it for a hint of fun too! I decided that all white needed a touch of blush pink (ohhh errr) I absolutely LOVE these converse.. pink, shiny and well.. just perfection in a shoe, again they are very comfy… they had me at hello. I also came across this cute little bag, perfect for a few essentials which brings me on to the last item.. a very handy umbrella. Now, let's not kid ourselves here, it's England and that most of the time means rain. An umbrella in Tennis season is a must if we need to keep our white suits dry!
Outfit 3 details:
So guys I hope you enjoyed that post. Something a little different but I really enjoy putting together these inspired outfits. Let me know if you want to see more…
*This post is in collaboration with Coral