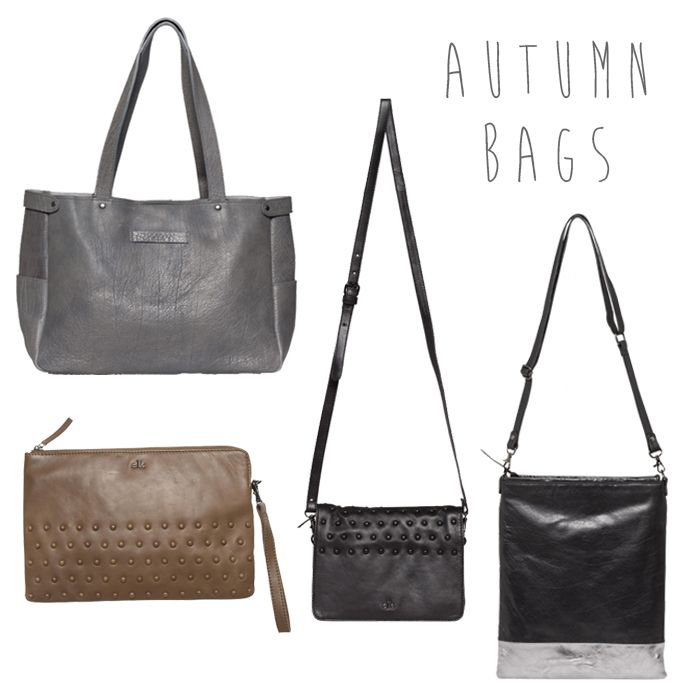 Autumn is the time we pack away the summer inspired clothes and bags.. and break out the Winter themed ones. It all sounds like a bit of a mission (and it is!) but it's a major must-do in the wardrobe world, believe me. Recently, whilst browsing for my Autumnal bag inspiration, I came across
elk, and the designer handbags on offer were my absolute favourite. The above shows my favourite picks from the website – all neutral Winter shades and bags that will match any outfit I chose to pair up.
The grey number is a pretty nifty size, big enough for just about anything I decide to grab on my way out (the usual Laura routine..) and I am absolutely loving grey shades for AW14! Next up is this light camel clutch, firstly I am loving the studded detailing and 'elk' logo, it gives it a beautiful quality feel. I also picked out the matching shoulder bag, but in black, because again, it's a bag that is an all time classic, and will last for years. My last choice, is a little more daring, a black leather bag with a silver bottom strip. Silver is my metallic shade of choice, so it was bound to find it's way over here – I love how this modernises the bag up a notch, perfect for a simplistic outfit.
Take a look at the bags over at Elk – do any of the
designer handbags take your fancy?!
*this post contains sponsored links, all views my own.