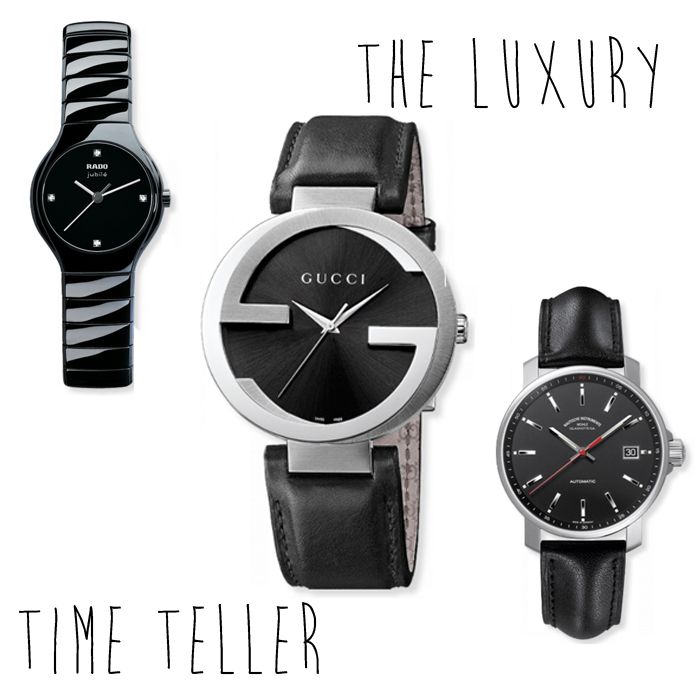 Watches – Watches of Switzerland
So, whilst I'm not all for the designer goods (and not because of personal choice!) I do believe that sometimes in life it's essential we own a few key items – something of a luxury and watches always seem to fall into this category. I love a decent, sturdy and well.. good looking watch. There is nothing else that we wear all day and rely on so much, it is an essential everyday item. I know for one that if I forget to put my watch on, my whole day is a write off.
For me the watch is all about style, and I feel that this season black is the way to go. Simplistic, stylish and well.. just really, really nice. I am also a huge fan of black and silver paired together, and the above three watches are my favourite from Watches of Switzerland, a brilliant website for luxury watches – and loads of choice. There is actually a watch in there for everyone, and whilst some are at the higher end of the price scale, some are pretty affordable as well. Now there is no reason to go all Kanye West and don the bling watch anymore – I feel that this style has long gone, it's all about the simple leather strap, big face and simplistic hands – easy to use and easy on the eye.
While to some buying a watch might seem like a really easy ordeal, there's actually a lot more involved. It needs to be personal to the owner (can I relate it to a pet here..!?) and it needs to have the key features. I would never need a watch with an alarm on, but for some this might be the one feature they are after! I loved this 'How to buy a Watch Guide' full of helpful tips that one might skim past previously. Even I didn't realise how much thought it took!
The first tip on buying your watch is obviously to set your price range, this will enable you to browse sufficiently and find watches that you can actually afford. Next, you need to figure out just what you want – what key items are important when it comes to your 'time teller', what can you live with, and live without? You might already know the exact style you're after (for example, my three picks above are pretty similar!) but if not then do some research, read some magazines, find the trend you're after.. because trust me, there are many! Lightweight, metal, heavy, blinged up and so on. For me, I love a traditional leather watch strap. The shape of the face is also a major part as this is the part you look at the most! Rectangle shapes can be quite traditional, and easy to wear. Circular are the most popular shape face, but also come in a wide range of sizes – from tiny to massive!
So, what type of watch do you own? And do you feel that this is an item you could easily invest in? I'd love to hear your thoughts on it!





*This post is a collaboration with Watches of Switzerland, all views are my own.
______________
______________
______________
______________
______________