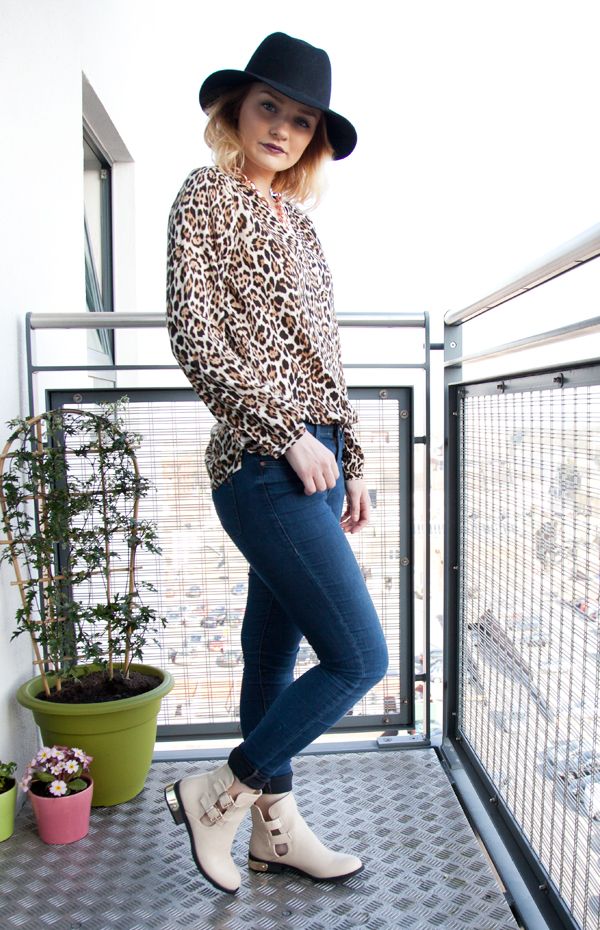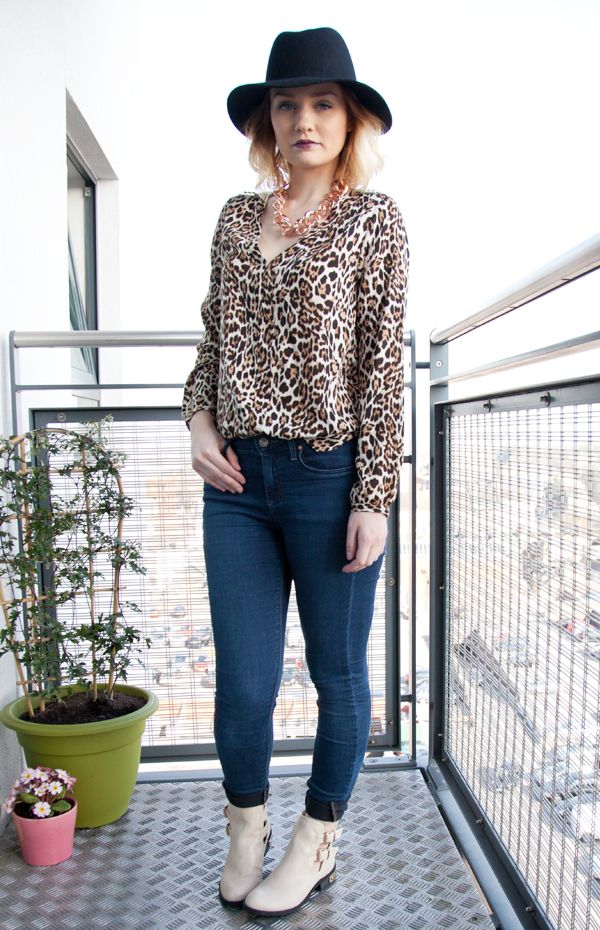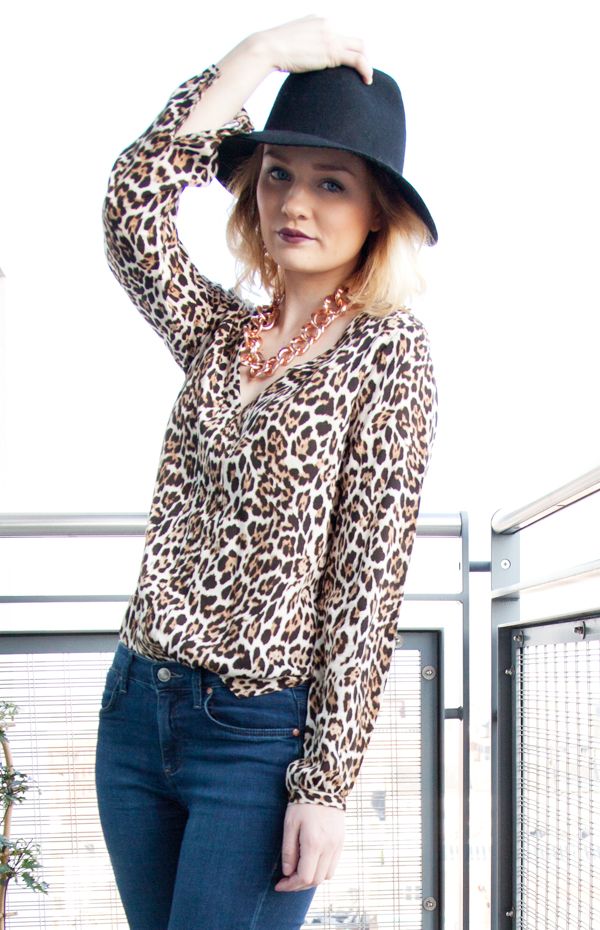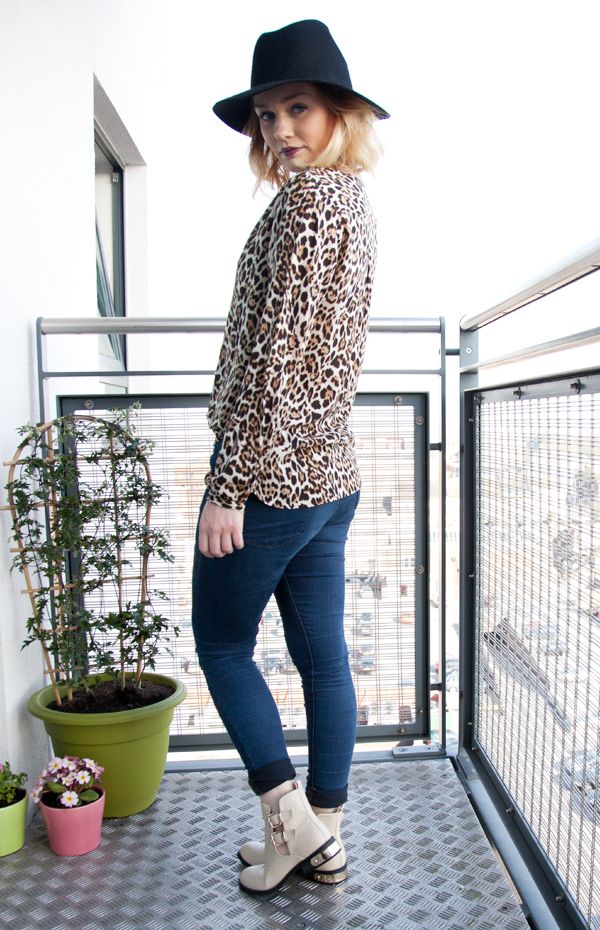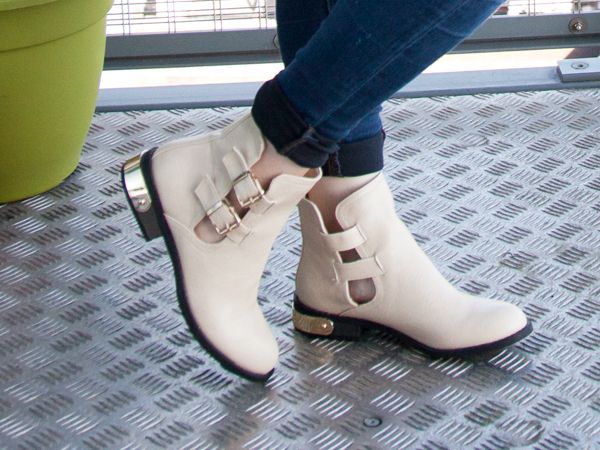 Shirt – Zara
Jeans – Topshop
Boots – Dolcis*
Hat – Topshop
Necklace – H&M
Lips – Body Shop*
Leopard is a print that stands on the middle of a fine line between 'fashion' and 'tacky', so it's pretty important that you get your leopard correct because, well.. no one wants to look like Pat Butcher afterall (for the non-British amongst you, give her a quick google..) Anyway, leopard print is still a huge favourite of mine so when I see an item that it works well with, I'll have myself one. This blouse from Zara is a prime example, a very delicate material and a modern studded gold detailing along the shoulders, plus it was in the sale – even better! I paired with my trusty Fedora, Leigh Jeans and these amazing cream Dolcis boots – I LOVE the cut-out detailing and heel cuff, great for the winter/spring transistion! Lastly, I got given this lipstick in a fashion week goody bag and it's become my new neutral favourite, I love brown tone lips at the moment and it makes any outfit that little bit more interesting.. so thanks Body Shop!
I had a few bits of exciting news this week, some of which I'll save for another post.. BUT, I had the biggest suprise when I logged onto my Youtube account earlier this week. My 'Hair styles for short hair' video has reached almost 24,000 views!! I'm absolutely amazed that many people have watched me mess around with my hair. It has spurred me on to trying to make more videos as well, so any ideas or things you'd like to see me film, let me know in the comments below, or pop me a tweet!
---
TWITTER

•

YOUTUBE

•

INSTAGRAM

•

PINTEREST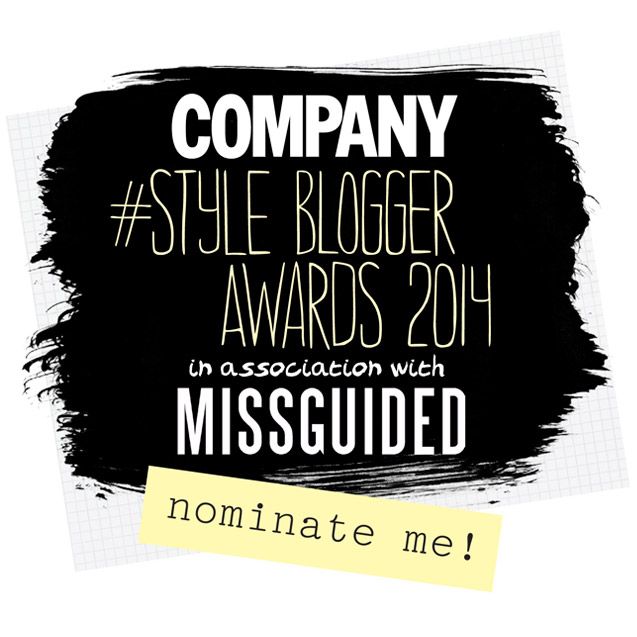 Please nominate Tiny Twisst in the 2014 Company Style Blog Awards under the 'Best Personal Style Blog' Category – it would mean the world because blogging is such a massive part of my life. Click here to Nominate!