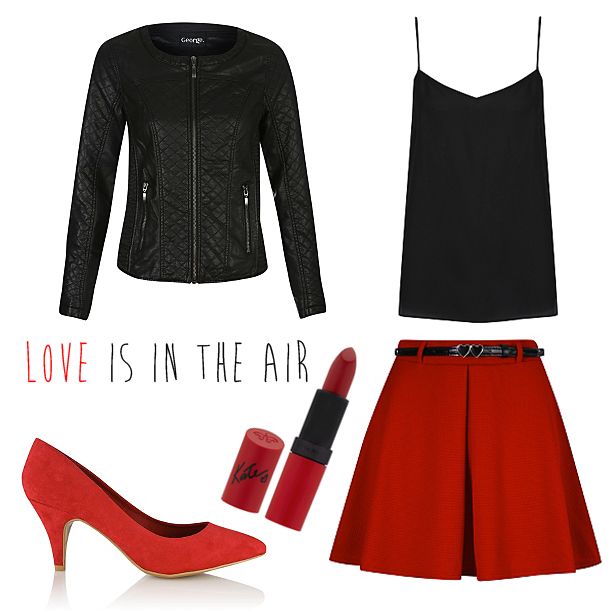 So, Valentines day is fast approaching (for the boys.. it's Friday!!) It's never really been a holiday that I have been overly fond of, whether it be bad ex-boyfriends (boo to those!) or being single (although, I spent the fund on myself, which helped!) However, I'm learning to embrace this lovey-dovey day and might even wear red.. yep.. you heard right. I am dishing out all the cliches and even writing this post covered in rose petals, sipping champagne and wearing love heart PJ's (okay yes, I may be slightly exaggerating..)
Anyway, George at Asda has always been a brand I've enjoyed and I sometimes feel like if this was on the high street (rather than an in-store food store clothing brand, for those who don't know Asda!) it would be just as popular as Primark/H&M. I was having a little browse earlier today, for research purposes, obviously, and spotted a few cute items that would make the perfect Valentines day/evening outfit!
You don't have to wear red on Valentines day, it's not a law or anything.. but well, it's a bit traditional and just generally nice to make a bit of an effort. Red is definitely not my usual colour (except for lipstick!) so I feel it would make a nice change to mix things up a little, even if it is just for one day of the year. This skirt caught my eye instantly because even the belt has hearts on it – the perfect wardrobe addition and not just for Valentines day.. this would look amazing in summer with a gingham blouse. The best thing about red is the fact that all patterns work so well with it.. it is the monochrome staple! George have a wide range of fabulous
skirts
, so if red's not your colour I'm sure you'll find something to replace it pretty sharpish.
Do you have any Valentines plans?! If so, will you be pulling out the red clothing?!
---
TWITTER

•

YOUTUBE

•

INSTAGRAM

• PINTEREST
*This is a sponsered post, all views my own