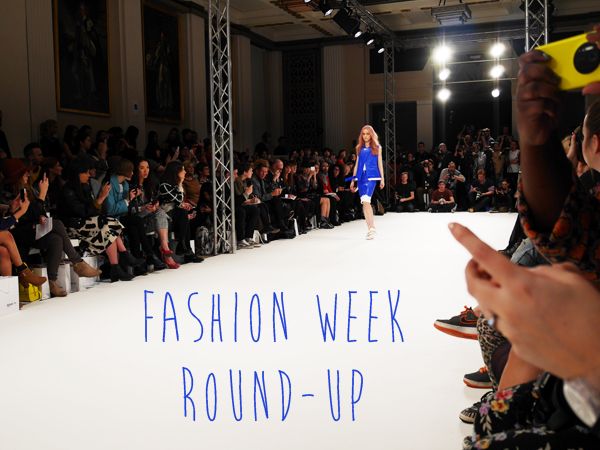 So, in case you've been hibernating for the past week or so, you might have missed that it was recently London Fashion Week, and even worse.. if you don't read
Tiny Twisst
on a regular basis (exxxxcusseee me!?) then you might have missed the fact that I went along. I was asked to go to the Fashion Scout event with Panasonic, and they very kindly provided me with the new
LumixGM1
camera to document it all on, this camera is absolutely amazing by the way, but more on that later.. I felt like writing a little round-up post, just to finish my Fashion week coverage off, with a cherry on top, or something like that.. Firstly the team were a joy to be around, and the other blogging girls were a very lovely bunch, so that made this amazing experience even more enjoyable!
Some trends I picked up from the shows are pairing orange with pastel ice-blue will be BIG, mocha browns and bobble hats are sticking around for a little longer.. textures and pleats, pleats in everything imaginable.. skirts, jackets, tops.. you name it. I was also pleasantly surprised to see a large amount of pink and glitter.. I am a bit of a girly girl and whilst I like the grungy styling, I do enjoy the softer things in life which, usually comes in the form of a white,
Zaynep Kartal
sequin covered ball gown.. just saying.
So the 
LumixGM1
 camera also surprised me. I am a camera person, having worked in fashion photography in the past so it definitely takes a lot to impress me. I think it was an excellent time to work with a new camera, fashion week MADE me learn all the settings, what I could do with it and get a general feel for it. My favourite thing about this camera is the amazing wifi setting, in fact, this might make me sound a little aged, but I'm amazed that a camera can have wifi in it – who would have thought!?
This setting basically lets you transfer photos straight from your camera onto your phone photo album, so you can get all social media savvy straight away, without having to upload to a computer first (which is a massive pain!) You can also see the camera screen on your phone, which again baffles me! Overall, I'd say this camera is one hundred percent worth trying out, the size is suitable for being on the go and it is the lightest camera I have probably owned. Settings also let you experiment and yes, there's still an auto mode, but it's nice to not have to rely on that – you can get a little creative!
I would like to say a massive thank you to the team I worked with over the past 5 days and the lovely bloggers I have met and chatted to – you have all been lovely. Here's to an amazing Fashion Week, and hopefully the first of many more!

LumixGM1 is £629.99, all thoughts my own.
---
TWITTER

•

YOUTUBE

•

INSTAGRAM

•

PINTEREST