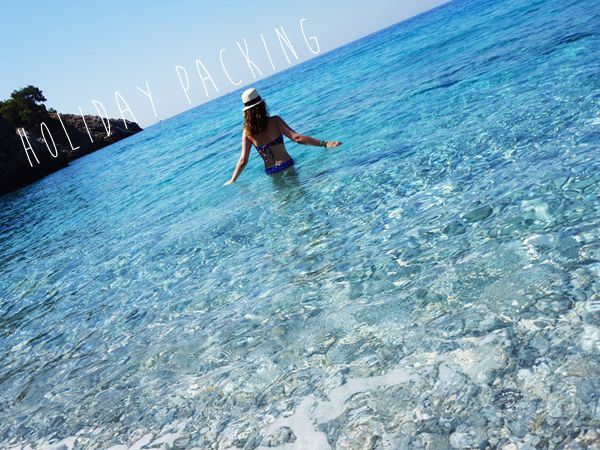 And she's home! I am back from my holiday – it was glorious sunshine & 36 degree heat for 10 days and I can safely say that I am now cold. When I left England it was summer so I'm not quite sure what's happened, who broke the weather?! Anyway, one thing about holidays that I can never get quite right is the packing. Sticking to a certain weight isn't something I am particularly great at, and every year I vow that "next year I will take less!" and of course it never happens.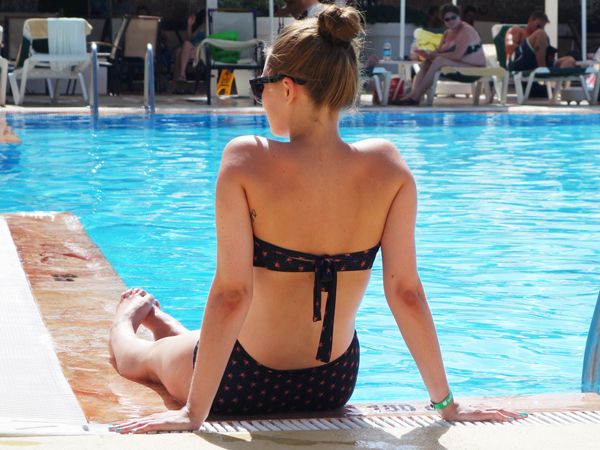 As you can see, I'm having a long hard think here… by the pool, in the sun, about what I would pack for a short Autumn holiday (no really, I was!) and don't worry as I am here to help. I have created the blog-handbook guide for Autumn holiday packing and how to utilise your basic, staple wardrobe pieces – so here goes.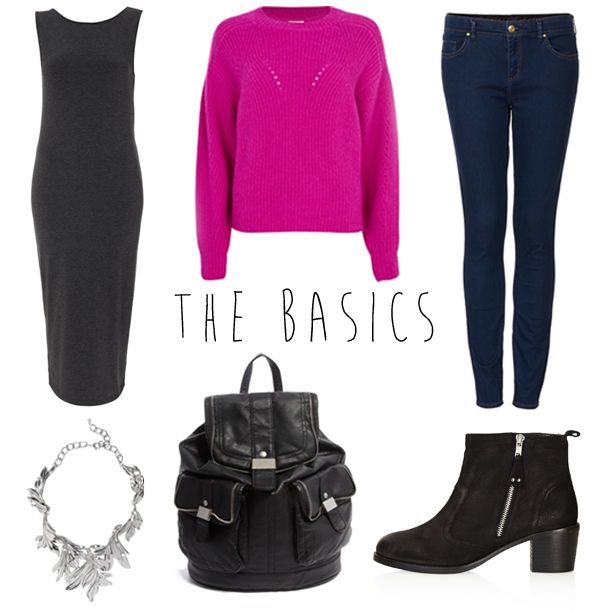 Basics, very important wardrobe pieces – you must have all of these items (yes, MUST!). Jeans are obviously a big staple in everyday life – if they didn't exist I'm not quite sure what I'd wear, these are the Leigh jeans from Topshop – extremely lightweight (so light to pack) and very comfortable (if you have no room, travel in them!) The midi-dress is also a new favourite of mine and can be worn in a number of different ways (see below) again, like the jeans, it is also extremely lightweight which is great for packing. I chose to use this dark-grey coloured midi for this post because the colour means it's versatile, it'll go with absolutely anything.
A splash of pink never hurt anyone, and I chose this to brighten up the outfits a little – Autumn doesn't necessarily mean you have to say goodbye to colour! Accessories are an important part of any outfit, so when packing light make sure you chose items that can be paired with any styled outfit, for all occasions. These boots have a small heel, so are great for daytime sightseeing, as well as to be worn for a more dressed up occasion such as dinner out. Rucksacks are on trend right now meaning you can wear this for posh drinks as well as a trip to the supermarket – not only that, you can use this for hand luggage too, so no need to pack! The necklace is a statement in itself – this will add something special to any other item.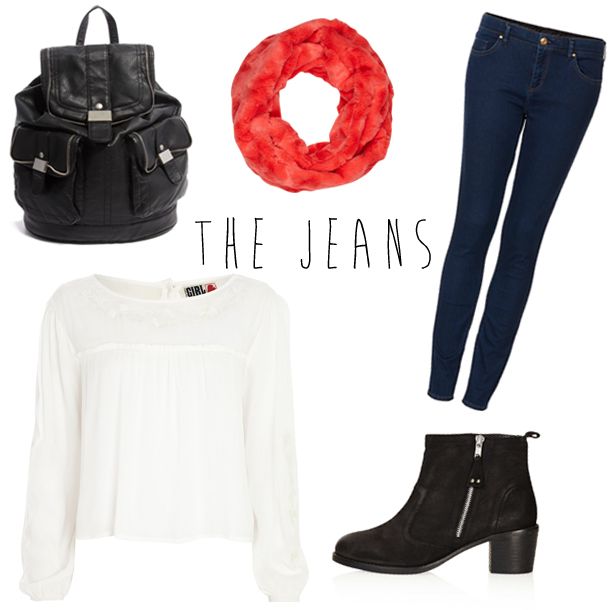 I absolutely love dark denim paired with cream, so this is a perfect combination for me. This shirt is light, soft and floaty – meaning it will be great if the sunshine decides to show it's face, you won't be too hot. However, if the weather takes a turn for the worse, simply wear under the jumper – double the warmth, and layering is always big in Autumn so you're even warm AND on trend – gold star!
I have added this bright, fur snood to compliment the cream, as well as add a splash of vibrancy to the outfit. Packing is all about using what you can, so this snood would also go great over the grey midi-dress as well as any other neutral tones you might pack!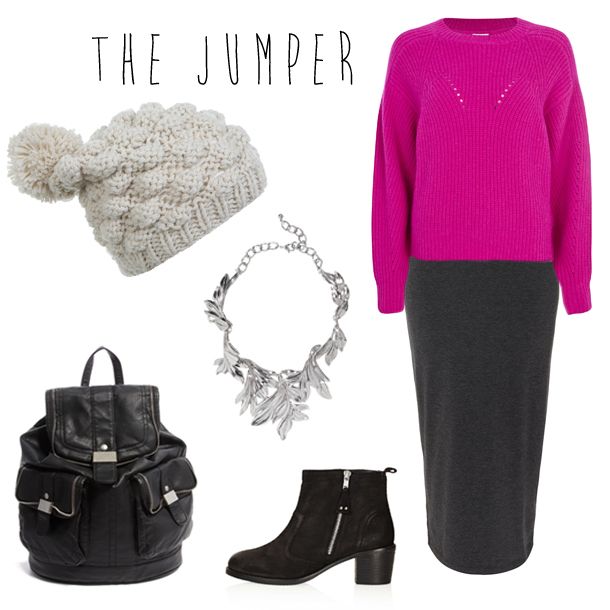 I love midi-dresses for this reason – look how it transforms this outfit! Jumpers are obviously going to be the best choice for Autumn – comfortable, cosy and warm. With a jumper this bright, you can keep the accessories and other outfit elements quite simple, meaning less to pack. A nice winter hat will keep this outfit looking cute and cosy, great for a pub drink by the fire.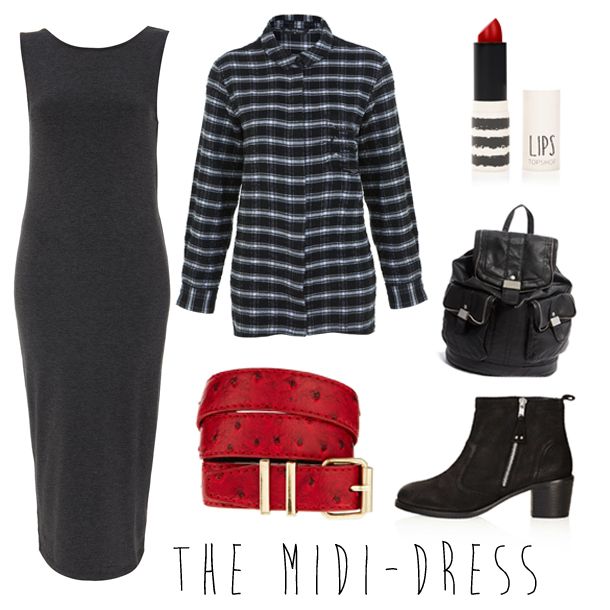 Wearing shirts over midi-dresses is something I have been spotting alot recently, and it works so well. This style dress is great for Autumn because it provides you with warmth and you can still show off the remains of your summer tan – Autumn isn't all about covering up those pins with thick jeans and tights you know! Shirts are also great as they are, again, so lightweight, meaning you can pack a few to create different outfit looks. I chose this checked number to compliment the dark grey colouring of the dress and to keep it a little more fun I added a hint of red using accessories and lipstick. This outfit is my favourite, a sexy lumberjack – it works.
So thats that! I hope it was some help – if you are going away do let me know.. would love to hear your plans! Also, any packing tips let me know in the comments.. I'll pack them away for next year! (excuse the pun..)
If you're looking to get away for a few days on a nice Autumn break, make sure to check out superbreak.com with a team on hand, you'll find the perfect destination.
---
TWITTER

•

YOUTUBE

•

INSTAGRAM

•

PINTEREST