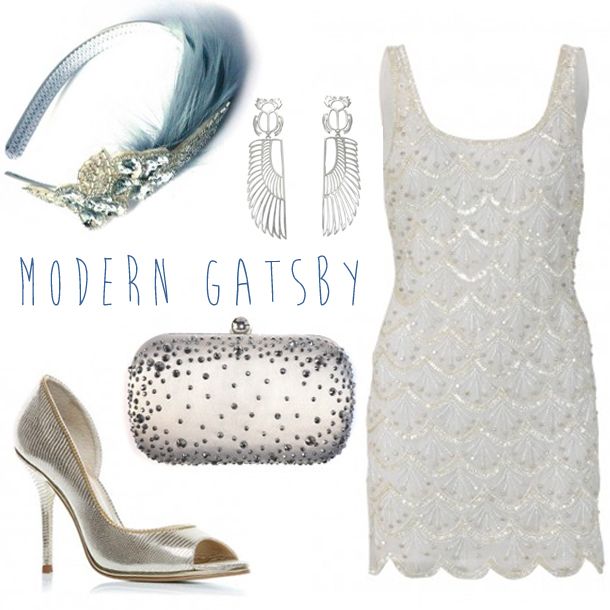 I may be a little behind the times here, but I am still massively inspired by the styling for 'The Great Gatsby', the flapper style dresses, glittery heels and feather hair accessories are items I would wear everyday, if I could. I thought that I would do a little pick of the week because it's been a while since my last one.. also, I know "wedding season" is coming up soon, so you might need some outfit inspiration, and of course, the all important proms – anything goes these days, so go a little Gatsby..
Dress – This dress is beautiful and I absolutely love the glitz-factor it has. With a retro-vintage vibe not only is it extremely modern and on trend now but it will stay that way – dresses like this don't age, which is brilliant. I love dresses encrusted with gems and detailing, it makes them somewhat heavy and therefore a darling to wear. Pair with these nude inspired accessories or glam it up by going for a bright shade, such as red shoes and accessories if you're a little daring. Little Black Dress is definitely worth a browse if you are looking for a evening dress for a special occasion, they stock amazing brands too.
Shoes – These shoes, like the dress, are a classic staple piece. I like these more so because they are silver with a gold trim – saves the stress of having to match all your jewelry up, you can wear either! I think these will add a glam effect to this outfit and I really like the peep toe – I'd take advantage of this and wear ruby-red nail varnish on those toes!
Bag, Earrings & Headband – The accessories always help finish off an outfit. The bag again, is a staple and is beautifully encrusted with gems (the magpie over here loved that!) The earrings are a little more on the modern side, but I feel these will help keep this outfit fresh! Lastly, the headband is probably my favourite item – I love this little subtle hint of blue.. it keeps something different within this outfit and if you know me, you'll know I like a little bit of colour here and there!
I also love the maxi dresses from LittleBlackDress.co.uk (click to see those!) and am currently trying to keep myself from drooling over the Forever Unique dresses, absolutely stunning! Now all I need is a wedding for an excuse to purchase this outfit.. anyone getting married?!



---
TWITTER

•

YOUTUBE

•

INSTAGRAM

•

PINTEREST