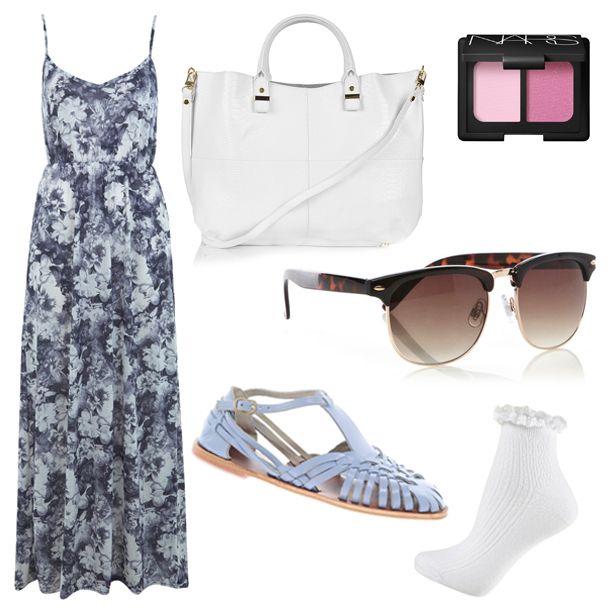 Eyeshadow –
Nars
I know, I know.. its snowing here in England and I'm posting a Spring outfit. But I figured that sometimes you have to think positive, I know that posting this dress is not going to make the temperature improve or the sun come out.. but still, we can hope. I am getting pretty excited for Spring, wearing floral dresses, sandals, sunglasses.. I have definitely had enough of wearing layers upon layers of jumpers and coats.
I have really been liking spring blues, a colour I actually don't wear enough. This maxi dress is a beautiful mix of blues and greys, which files it away in a summer boho look. It reminds me of something you could wear to a festival… I'm picturing wavy hair, flower crown and long strapped bag, of course this comes with a cold cider in one hand and (insert beautiful famous man) singing on stage.
This bag is an absolute beauty. It is big enough to store everything you own and looks extremely designer-priced. Topshop never fail with their bag collections. In terms of sandals, I loved these baby-blue ones via ASOS. They have slightly different blue tones to the dress, but I like to clash colours and I feel these compliment the dress and help bring out the lovely colder blue tones. Socks and sandals is something I would have laughed at a few years ago, but you know what? We can do this now! These cute frilly ankle socks are completely acceptable to be worn with these sandals.. it reminds me of being at school, everyone needs to re-live some youth at some point, right?!
The sunglasses are a cute addition and I love the retro vibe they have, I felt that they paired alongside the overall style of this outfit perfectly. Lastly makeup wise, now this gets me excited… Summer is all about dewy, golden, glowing skin, pale eye shadows such as pinks and peaches. Of course finishing off with a beautiful neutral, glossy lip. Gold hues and beach waved hair – a match made in heaven.