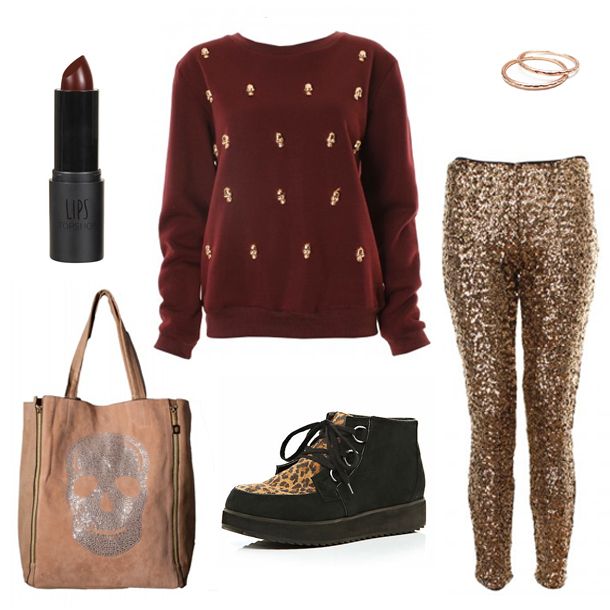 I always get excited when the Winter clothes hit the shops, by the end of Summer everything seems a little same old and it is so nice to have the fresh collections in. Big chunky knits, fluffy scarves, warm hats and of course Primark PJ's (you know you love them to!) I am especially loving the colours this season… berrys, purples, greens, golds – lovely Winter shades.
This jumper from
Lavish Alice
is amazing, especially for me and my obsessions at the moment *ahem* plum AND skulls. I love the skull details, very different and unique.. it adds a twist on the stud trend at the moment. These sequin trousers also from
Lavish Alice
are amazing and so fun. I love pushing the boundaries of fashion here and there and these are no exception to that. Yes, they are crazy but my gosh are they cool. I'd also pair these with a black peplum and killer heels for a glam evening look – I definitely think you can wear these so many ways.
I think it is pretty obvious why I like this bag! The skull detailing is nice and subtle which makes this bag keep its class (sometimes I find bag motifs can cheapen the look a little) I think this actually looks like a really good quality to and the tan is so easy to wear, I'd say this could be worn right through winter to, dare I say it, summer.
I'm not the biggest fan of creepers but this
River Island
boot version really caught my eye – they are alot more subtle than creepers, maybe this is because of the boot shape rather than the shoe. I also love splash of leopard print. I have these in my online basket, sitting and waiting..! Lipstick is dark, red, vampy.. need I say more and the rings are simple and classic – something I find
Dixi
do very well.
So, there you go.. my Fall picks! I also made another video (my last one was a topknot tutorial) and thought I would do the Fall Tag. I really enjoy doing videos here and there, so if there is anything in particular you'd like to see (any tutorials, tags, hauls etc) then let me know in the comments and I will add them to my list!
Now, go make a hot chocolate, get back in those PJ's and watch a film.. ahh, my idea of Winter bliss…
Hope you all had a great Halloween and enjoyed dressing up, you can see my fancy dress post
here
!