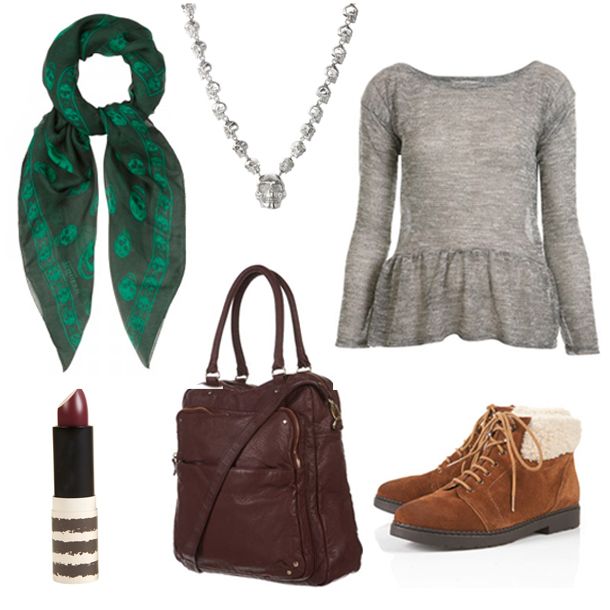 So, thanks to the typical British rain it has been a little impossible to do any sort of outfit photos – whose bright idea was it to do photos outside.. oh.. yeah, wait, mine.
Anyway, I thought this would be the perfect opportunity to do a Picks of the week as I havent done one in a while. I'm really loving all the Autumn clothes at the moment, it's nice to see some different colours and materials as I always feel like seasons get a little tiring and same old by the end. Although, I did go shopping this weekend and there is soo much black everywhere! Autumn and Winter does not mean everyone wants to dress in black, surely? Saying that, I have been feeling like I wear way too much black lately, I am trying to inject some colour in my wardrobe (if I can find any room..)
***
I absolutely love the colour of this McQueen scarf. I love anything McQueen anyway to be honest, but the greens are beautiful. I realised that I hardly ever, if ever, wear green – and it's actually a lovely colour and goes with so much! I always think this type of green flatters those with blonde hair too, mine is half blonde, so I hope I meet that critera. I have a black McQueen scarf and although they arent the cheapest item you can buy, they definitely enhance an outfit for the better. I always feel great when I wear mine.
Yes, more skulls but in the shape of this amazing over the top necklace via
Zoe & Morgan
. Yeah, I like skulls – I'm sure you have read that enough times by now. This could come across a little 'gothic, dark side' but I think it would look stunning if worn with a really classy outfit, a black peplum and disco pants for example. It is an expensive piece to say the least though and definitely more of an investment, but hey, this post is about what I would like, not nesecarily what I can afford…
Ah, a peplum. I absolutely love peplum tops right now and I thought a peplum in jumper form was really cute. I can imagine this with casual jeans, boots and a leather jacket (oh and a McQueen scarf maybe…) hey presto, easy winter outfit done.
The bag and lipstick are a gorgeous deep plum colour – I have been loving this shade recently. Plums, deep purples and berry tones are big this season and are so flattering and girly, they also look great worn together. I am on the lookout for the perfect plum lipstick at the moment, any reccommendations? This Topshop version was the closest I could find!
And finally a nice pair or boots for warm feet in this dreadful weather (I will stop going on about the weather, I promise) I thought these were nice and casual and would look great with skinny jeans tucked in, with a big, baggy cream jumper. Cosy days are the best!
What items have you been loving this Autumn?