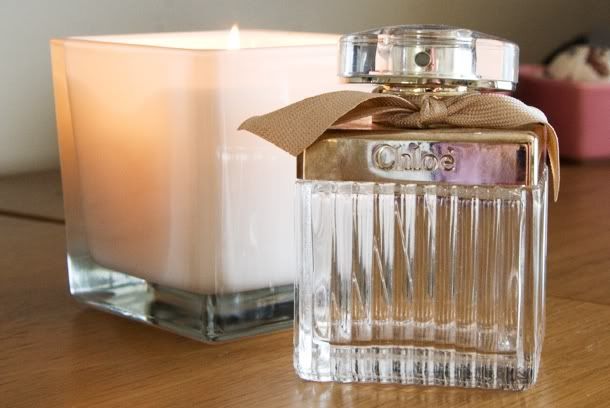 I am one of those people who only wears a select few perfumes and I consider the above my 'go to' favourites. With the cheaper brands (i.e the Next and Britney) this can vary as they tend to be my backup perfumes but Chloe is *my* smell, and I don't think I'd ever find anything else that I could like more than this. Perfume is a little difficult to blog about for the obvious reasons that you can't actually smell it through a computer screen (ya thinkkk?!) but on all serious levels, I can try my best to describe it to you, so here goes!
Britney Spears, Cosmic Radiance is described to have sultry notes of amber, sandalwood and vanilla. This scent is a little different for me but if you didn't already know, I am a hugeee Britney fan so I obviously buy all of her perfumes (or get them for birthday/christmas presents!) I actually really like all Britney perfumes (except for hidden fantasy which is a little too musky for me) and that is from a complete un-biased approach! I think for the price you pay they are worth it and stay put for most of the day, which for a cheaper brand is pretty good going. Plus, because she brings so many out you can always find the older ones in the sales – usually in the box set, so you get a lotion free! (I was really trying my hardest to find a Britney pun that I could put here, no can do though I am afraid!)
Next, Paradise is a more recent find for me. I was in Next a little while ago and just happened to start looking at the perfumes, I loved the smell of this and it was only £6.50 – great for a little 'in my handbag' perfume! The scent is quite fruity and floral and has tones of lily meaning that it is a very fresh smell, great for a quick freshen up after work! The staying power isn't great, I find I have to re-spray myself a few times a day to smell this on myself again (but I do tend to over spray perfume!) but for the price you can't really complain about that.
Chloe. Now, this is my all time favourite, my 'expensive' perfume if you like – and the only one I would happily spend £50 on (for a big bottle mind…) As you can see from the picture I am running VERY low but will be picking up a bottle in dutyfree! This is definitely 'my' smell and I absolutely love this perfume, I always get compliments on it when I wear it to. For me it instantly reminds me of fresh washing and is a very feminine scent – the website describes it as having a fresh rose scent. Of course the lasting power for this is amazing, if I spray it on a scarf it will still smell like it the next time I wear it – so one hundred percent worth the price, the only thing is once you buy this, you won't want to buy anything else in its place!
I sprayed all three of these perfumes on my arm just now so that I could describe the scents.. now I just have one massive headache and smell like a mix of Britney, paradise and chloe…! Anyway, I hope you enjoyed this post, I have enjoyed doing a few random 'beauty' posts as well as my outfit ones! I am currently in Turkey so have scheduled this to post while I am away – so I hope you are all well!