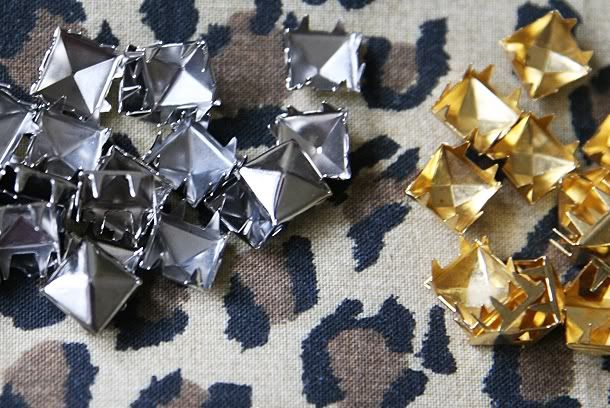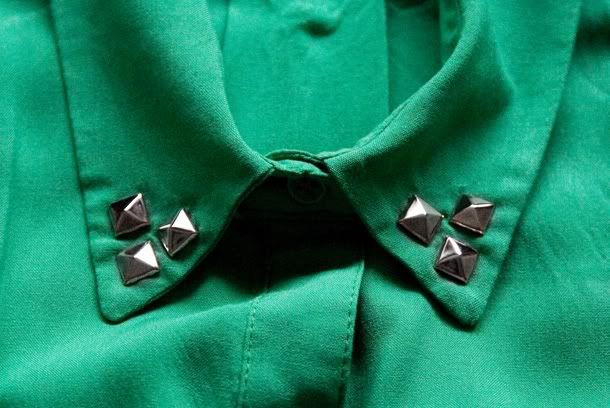 A bit of a different post today.. mostly due to the fact that it is currently chucking it down in merry ol' England so my outside outfit shots are not going to work (well they could, but my warm house is much more appealing..)
Anyway, I have mentioned this a few times in some past posts so I thought I would try and inspire you all a little. If like me, you love studded collars at the moment (for example,
the blog-famous Zara shirts
) but don't want to pay the earth – because lets face it, whenever there is a few studs stuck on an item of clothing the price seems to sky rocket, then this is a handy little do it yourself tip. The studs are pretty cheap, the ones I used were about £2.50 for 28 studs and you can pick up these shirts from H&M for £7.99. You literally put the stud through the material and bend the clasps on the back (I find using the back of a spoon the easiest way to do this) to keep them in place. Make sure you are one hundred percent though because once they are pressed through they obviously leave small holes in the material. I think filling the whole collar with studs would look amazing, I keep meaning to try and do this. I have yet to wash them, but if they did go slightly off-coloured you could just take them off and reapply new studs – it is so quick and easy to do, you'll be studding everything you own.. trust me!
Let me know if you have tried this, or have any other DIY fashion tips in the comments – I think this may be my new Sunday hobby..