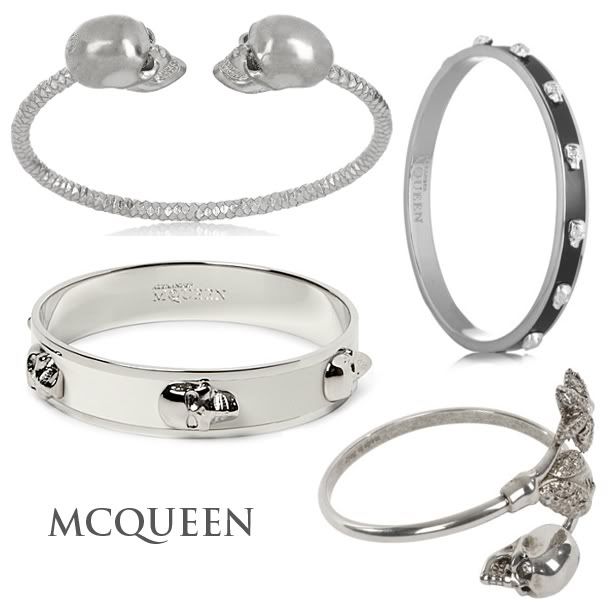 I have always had a bit of a 'thing' for skulls… this probably stemmed from my *grunger days*, I thought I was really cool for wearing skull t-shirts and baggy jeans – thank goodness my parents didn't let me get my lip pierced. I call those the Avril Lavigne days and they are long, long forgotten. Since I have aged a little (so that makes me sound ancient) I'd like to think my liking for skulls has turned a corner into a more high fashion direction.. aka Mcqueen. I was lucky enough to receive a lovely Mcqueen silk skull scarf as a birthday present and ever since then I have been drooling over anything skull encrusted by Mcqueen. The most recent items of love being the bracelets.
These bracelets are simple with only skulls for decoration – simplicity and skulls equal perfection for me. I love silver jewellery and how it looks when you wear a few differently designed bracelets, I like the stacked up jewellery look and sometimes one designer piece paired with lots of nice high street bargains can complete an outfit.
However, these obviously come at a price and lets face it we don't all have £200 to spend on a bracelet. But there are loads of skull bangles, earrings and necklaces about at the moment so keep your eye open – I bet you could find some great dupes of designer pieces, Topshop being a great starting place!
What designer pieces do you admire from afar?