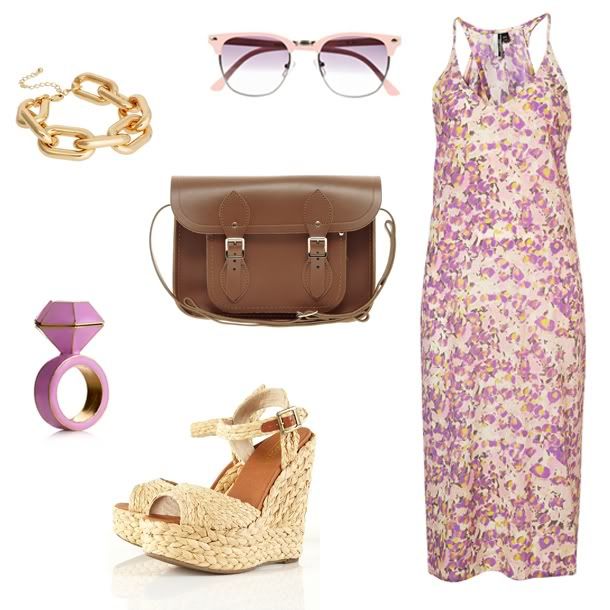 I thought I would do something a little different this evening, so here is my most wanted outfit of the week – I say weekly because if I did by month the page would be full, I like my clothes. Anyway… If you live in the UK you will be well aware that we have had non-stop rain for what feels like forever, I am seriously bored of it. I hate coats, I hate umbrellas, I HATE RAIN! So here is a little summery number to get us all ready for those lush sunny days of summer, it has to happen eventually.. right?!
This dress is just cute, I like the pattern, the colours and the length. I have been liking this length dress lately, super flattering. I was going to pair it with some vans/converse, because I think you could really so super casual with it to.
How cool are these shoes?! They caught my eye because of how different they are, love the rope like effect, and I'm pretty sure they would go with absolutely everything.
This ring is just amazing. I am loving Me & Zena lately and have to stop myself from buying the entire website. If you like slightly different, unique pieces for a reasonable price then go check them out. This ring also opens, perfect size for a few tic tacs! The bracelet is a bit of a obbsession of mine lately – I love this type of chunky, slightly tacky bracelet – also loving spike bracelets at the moment!
The bag reminded me of a slightly Mulberry shape, I like the structured effect of it and brown is my favourite colour, it is perfect with pretty much any outfit and any weather. This would look really cute with a casual jeans/tshirt combo to, nothing better than an effortless outfit.